Product Detail
Product Tags

CPLA CUTLERY
Disposable tableware with a service life of only a few minutes should not be made of materials that can be used for hundreds of years. Plastic manufacturing, pollution and very limited recycling infrastructure are the focus of global consumers. Catering service companies have the opportunity to lead the trend by choosing compost to recycle disposable tableware and disposable food packaging waste.
Our complete CPLA cutlery kits range provides superior strength and sustainability. Durable 100% compostable tableware can withstand temperatures up to 190 degrees Fahrenheit, making it the perfect choice for hot soup, cold ice cream, and anything in between.
Our CPLA cutlery kits is made of plant-based bioplastics and made of rapidly renewable starch. PLA, a biodegradable coating made from naturally occurring substances in plants. Ingeo PLA is not only fully compostable, but also has a significantly lower carbon footprint compared to plastic alternatives. Certified commercial compostable. The carbon footprint of all our CPLA cutlery kits is smaller than traditional plastic.
The series includes knives, forks, spoons, spork and cutlery sets. There are many combinations of CPLA cutlery kits. Knives, forks, spoons, spork, napkins, salt and sugar can be freely combined according to your requirements to meet your different needs. The CPLA cutlery kits is packaged in PLA film, and your logo, text and other company information can be printed on the package to better display your company and better display your company image
CPLA cutlery kits is heat-resistant and strong.
Our bioplastic CPLA cutlery kits can be composted in commercial facilities.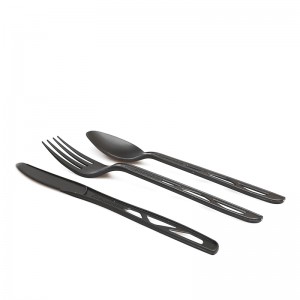 Heavy Duty CPLA Cutlery Kit
| | | |
| --- | --- | --- |
| Fl-KFNHW/B | Heavy Duty CPLA Cutlery Kit:White Knife/Fork/Napkin in a PLA wrap | 250pcs |
| Fl-KFSNHW/B | Heavy Duty CPLA Cutlery Kit:White Knife/Fork/Spoon/Napkin in a PLA wrap | 250pcs |
| Fl-KFNSPHW/B | Heavy Duty CPLA Cutlery Kit:White Knife/Fork/Napkin+Salt in a PLA wrap | 250pcs |
| Fl-KFSNSPHW/B | Heavy Duty CPLA Cutlery Kit:White Knife/Fork/Spoon/Napkin+Salt&Pepper in a PLA wrap | 250pcs |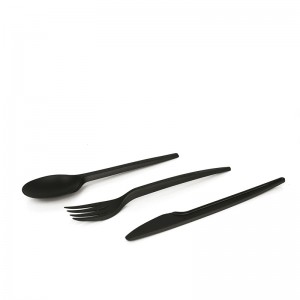 Medium Weight CPLA Cutlery Kit
| | | |
| --- | --- | --- |
| Fl-KFN65W/B | Medium Weight CPLA Cutlery Kit:White Knife/Fork/Napkin in a PLA wrap | 250pcs |
| Fl-KFSN65W/B | Medium Weight CPLA Cutlery Kit:White Knife/Fork/Spoon/Napkin in a PLA wrap | 250pcs |
| Fl-KFNSP65W/B | Medium Weight CPLA Cutlery Kit:White Knife/Fork/Napkin+Salt in a PLA wrap | 250pcs |
| Fl-KFSNSP65W/B | Medium Weight CPLA Cutlery Kit:White Knife/Fork/Spoon/Napkin+Salt&Pepper in a PLA wrap | 250pcs |
Key Attributes
· Made from renewable & sustainable plants,not oil
· BPI&EN 13432 certified,1oo% compostable
· Heat resistant to 185 F(95 C)
· Superior design,super strong
· Cutlery kits available,wrapped with compostable PLA film
. Custom colors available
Material Options
·CPLA
---
Previous:
Medium Weight CPLA Cutlery
Next:
Wooden Cutlery
---
Write your message here and send it to us